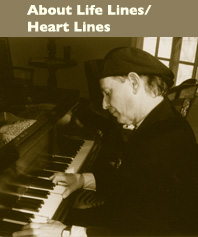 John Gatti has been composing his own music for over three decades. Life Lines, Heart Lines consists of melodic instrumentals inspired by family members. The CD consists of 11 songs, ranging from a classically infused tribute to his Aunt Anna, who played the organ in St. Anthony's Church in Paterson for over 45 years, to a lighthearted celebration of his in-law's 50th wedding anniversary. All songs were written, arranged, played and produced by John himself.

John was first inspired to write a family song when his father died, in 1990. "My father was a fine musician and my musical mentor," John recalls. "When he died, this song just came out of me, and seemed to reflect his spirit. The other songs were created in much the same process."




About the Songs

The Wedding Song
When Betsy and I got married on a beach on the island of K'aui, I wanted us to have some of my own music to accompany the non-traditional ceremony. I think this tune is joyful and builds in momentum just like the waves that crashed on the beach behind us as we took our vows.

My Dad
The first family song I wrote, shortly after my father passed away, this song evolved from the first few notes, which seemed to say "my dad". Even though he was over 40 when I was born, my Dad was my mentor and teacher as well as a loving father.

Straight Up (Aunt Anna's voyage)
For my Aunt Anna, a most unusual woman who graced us with her presence until "in her 96th year", as she liked to say, I incorporated a classical progression that I imagine she played many times in her long church organ career.

Mary's Eyes (Mom)
I wrote this within the first hour after learning of my mother's death. I intended it to convey the two distinct sides—loveliness and tension—of this Sicilian-American woman who loved to have a good time. Everyone who knew her spoke about her unusual, almost translucent eyes, thus the title came naturally.

David Christopher
This is a song for my second grandson, David Christopher Gatti. I'd always wanted to write a jazz ballad, so after coming up with the first five notes, which seem to speak his name, the rest of the song evolved very nicely.

Elizabeth
This one's for Betsy, my wife, and was written early in our relationship, during that magical time when, no matter how old you are (we were 40 when we met) the world seems young. Miraculously, we still recapture that feeling fairly frequently, even after nearly 13 years together.

Adele's Soulmate (Dave T.)
When my sister Adele lost her husband suddenly last year, I knew I wanted to write something that reflected my brother-in-law's loving nature and no-nonsense approach to life. I chose a simple melody and chord progressions that seemed fitting for a man who was loved by nearly everyone who ever knew him.

Third Time Around (John Matthew Gatti III)
The birth of my first grandson and namesake was very emotional, so I incorporated those strong feelings into the music. His genetic makeup includes musical talent from his father, who plays guitar and sings, and his mother, who has a lovely voice, so it's likely that music will play a big part in Johnny's life.

Casey's World
This song actually emerged from my youngest son, Casey, asking me how my keyboard worked. He's an artist and a technophile, so I was demonstrating the incredible range of sounds and how they affect the melody. The dreamy, idyllic end result is a fitting musical tribute to a very special human who embodies goodness and light.

Paddling Along (Joan & Wally's 50th)
When my in-laws celebrated their 50th anniversary a few years ago, I wanted to write a song that reflected their generation's music, melodic, energetic and fun. My father-in-law and I are great fishing buddies, so the "paddling along" idea seemed appropriate.

Lord Help Me (John Jr.)
My firstborn is a high-energy type who always seems to have a tornado of activity swirling around him. He's pursuing a career with the church, so it was fitting to create a gospel-type tune for him. This was really fun to write and gave me the opportunity to display a little musicianship in the solo. But Lord help me, it's a hard song to perform!